Stan Ridgway: Man Made Out of Words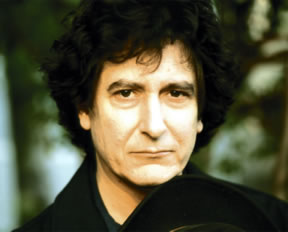 ---
What's happening can only be called poetry.
--Greil Marcus on Stan Ridgway
The pure products of America go crazy.
--William Carlos Williams
A gifted composer, arranger, and eccentric, Stan Ridgway stands out as one of our greatest singer and songwriters. Yet his greatness cannot be attributed to an inimitable voice (though it's as unique as that of another American original, Johnny Cash), his status within the popular music industry, or his influence on others. Instead, it lies in the attentiveness and care he has for the tortured characters who populate his imaginative landscape: he understands, and is able to convey, their pain, their peculiar suffering. In short, his strength is in his sensitivity to the complexity of disenfranchised characters. His songs are populated with a vast array of eccentric characters as well as engaging, though frequently elliptical narratives. But his songs are more than this, because no other singers and songwriters, at least in rock music, do quite what he does, nor do they have his storytelling gift. One would also be hard-pressed to find a songwriter in rock music with his remarkable sense of humor or his ironic sensibility. Outside of rock, the artist who would be his closest analogue, with the unusual gift of having insights that are simultaneously humorous and painful, would be John Prine. Though other singer/songwriters (for example, Randy Newman, or Jimmy Buffett) share this uncanny ability, it is Prine who, like Ridgway, simulates a myriad of voices so accurately. The two are also the more aggressive, "crude" as it were, in their portrayals of grotesques and absurdities, which always in their satirical humor cloak a darker reality.
Stan Ridgway cares to do nothing less in his music than capture the diversity of the American people and landscape, most often using Los Angeles as a microcosm of the larger society. Yet in doing so, he does not judge; rather, he keenly observes, he hears, and he writes with extraordinary understanding. "I am large, I contain multitudes," Walt Whitman wrote in Song of Myself, "I do not ask the wounded person how he feels, I myself become the wounded person." And like Whitman, Ridgway can empathize with his most tortured characters; he places himself in the position of being the spokesman for the disenfranchised, the lonely; in short, to allow those without a voice to be heard. Also like Whitman, he wants nothing less than to capture the diversity of the American experience. And like the strong American poet Wallace Stevens, Ridgway understands that to capture character, you must capture the landscape, because the landscape forms, or enables, our character.
Anthony DeCurtis, one of the few critics besides Greil Marcus who has written on Stan Ridgway with some acuity, says that it is Ridgway's "unruly compassion" that "prevents his bemused, wise-guy worldliness from icing over into superiority." Despite his demonstrated talent, Ridgway has been virtually ignored by the established music critics; this suggests that he will never be a star in his own country, though he fares better, perhaps, in England and continental Europe. He has remained a staunchly independent artist who responds to his own personal code, and as a result has never embraced corporate sponsorships or similar enticements. He remains, of his own choosing, on the "outside" of corporate institutions and practices, and by extension, on the periphery of his society.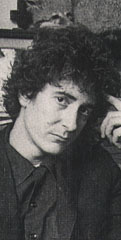 He is not, however, afraid to take artistic risks. He is willing to play the fool because he wants us to laugh with him, out of pain of what is or simply because we recognize the veritable absurdity of our existence. He articulates what we know. At his best, his genius is that he calls us into playing the game of life. "There's an ocean out there," he sings in "Don't Box Me In," "running right past my door. I wonder, I wonder, where?" Like the persona of that song, he wants all of us to jump in, to swim, to play the game of living.
His remarkable talents are difficult to contain. He draws together so many American popular musical traditions--blues, jazz, country and western, "art rock" from the early 70s, film scores--to form a highly original, nuanced music. For someone whose recognizable influences range from Johnny Cash to Lou Reed, from Ennio Morricone to Henry Mancini, from Paul Butterfield to Miles Davis, his musical aspirations are perhaps too vast for the conventional rock band to encompass. Still, he retains its basic instrumentation.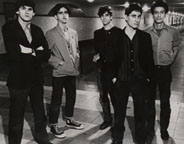 New Wave Icon
His career started as the lead singer and co-songwriter of the now defunct band Wall of Voodoo, a Los Angeles rock band formed early in 1977 purportedly to write music for low-budget and horror films. In retrospect, it is likely that the band was formed solely in order for Ridgway to promote his musical ideas. The band's earliest appearances, in 1978, were in venues such as The Masque, a now legendary underground club beneath the Pussycat Theatre in Hollywood, where scores of aspiring punk bands were trying out their licks. Yet it is important to note that the band's mixture of country and western, Morricone soundtrack music, and atonal textures was hardly typical new wave/punk headbanging fare.
Wall of Voodoo (WOV) was a band that always threatened to make a great record. It never did, in part because it simply didn't hold together long enough, and partly because the band seemed to have no coherent artistic vision. Many of its early songs, in retrospect, seem dated. Demo tracks--several of which are one channel overdubs--from the original incarnation of WOV date from 1978-79; two of these songs--"The Passenger" and Johnny Cash's famous "Ring of Fire"--made it to the group's eponymous debut EP, Wall of Voodoo, in 1980. In addition to Ridgway, the band at the time of the EP's release consisted of Bruce Moreland on bass, Marc Moreland on guitar, Chas T. Gray on synthesizer, and Joe Nanini on drums and percussion. Other songs from this early period, such as "Wargasm" and "Invisible Man," were part of the band's live show, but never made it to record. However, "Invisible Man," written by Ridgway, made it to WOV's posthumous The Index Masters, released on compact disc in 1991 (on which all of the material dates from 1980).
The Wall of Voodoo EP, putatively emerging out of the L.A. new wave/punk scene in 1980, was eclipsed by the then critical rage over the L.A. punk band X and its first album Los Angeles, and the critical establishment's furor over albums such as (for example) Bruce Springsteen's The River, The Clash's London Calling, and Joy Division's Closer. Within this context, the EP yielded its one dynamic song for a single, an art rock version--not punk--of Johnny Cash's "Ring of Fire." One suspects the decision to record that song was Ridgway's, because he has said in interviews that one of his favorite performers is Johnny Cash.
Buoyed by the exposure provided the band by the then burgeoning MTV, as well as the utterly original sound of their music (the percussionist had an assortment of pots and pans, whistles and bells, duck calls and other devices), WOV released its first LP in 1981, Dark Continent, featuring the same line-up as the EP.
Neither the EP nor the first album received much attention from domestic institutional critical journals such as Rolling Stone, though the LPs were noticed in British journals such as Trouser Press. A reviewer for the L.A. Weekly observed early in 1980 that WOV was "one of the few LA bands who aren't stuck on the wham/bang punk treadmill or playing music that refers back slavishly to rock's early and middle periods, and as such they tend to alienate the pogo-bent section of their audience." In contrast, John Swenson, writing in The New Rolling Stone Record Guide, published in 1983, dismissed the band outright, doling out one-star ("poor") ratings for both the EP and first LP, saying, "L.A. electronic music quintet makes self-proclaimed 'aural nightmare' music. Take it from them and pass on this stuff" (534). The dismissal was much too glib (and even inaccurate) to be taken seriously, but such was the perception of them in 1983--at the height of their success as a result of the hit "Mexican Radio." (Incidentally, the origin of the collocation "aural nightmare" to describe the music of the band comes from an early press release of Index Records.) The phrase was never proclaimed on any of their albums, though in 1983, during an appearance on American Bandstand, when asked by Dick Clark to "categorize" WOV's music, Ridgway answered, "I'm mostly just as confused as anyone else as to what to call it . . . I used to say it was a neo-Neanderthal approach to form." Clearly, Ridgway was content to let critics and reviewers puzzle over the nature of the band's unconventional rock.
With Dark Continent, the band codified their sound. Videos of "Call Box (1-2-3)," and "Crack the Bell," received some MTV air time. "Back in Flesh" from the LP appeared on Urgh! A Music War (1981), a promotional compilation film and album in which some of Miles Copeland's I.R.S. acts appeared. "Back in Flesh" and "Call Box (1-2-3)" now sound dated, locked in the early 80s L. A. new wave sound. Only the remarkable "Crack The Bell," as well as "Red Light," "This Way Out," and "Animal Day" from the LP really matter any longer.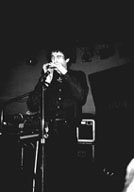 Popular success came with the now legendary "Mexican Radio," released late in 1982, which appeared on the LP Call of the West, the second album by WOV and the last on which Stan Ridgway appeared with the band. On this album the group now consisted of four members, having lost Bruce Moreland. In a 1986 interview published in Sounds 22 (May 31, 1986), Ridgway said, "My design . . . was always to have a Top 40 avant-garde single that was really left but also non-elitist. And obviously we peaked out, for me, at 'Mexican Radio'."
A fluke hit, "Mexican Radio" made it to the Top Forty in 1983 and the band made it to Dick Clark's American Bandstand, where, looking both nervous and uncomfortable (and now, in retrospect, very young), they played both that song and "Tomorrow" from Call of the West. It was "Mexican Radio" that forever linked WOV to the 80s New Wave, and established Ridgway, perhaps incorrectly, as a New Wave icon. One would suppose that an appearance on American Bandstand and a hit single was the imprimatur of success, but, ironically, both Ridgway and percussionist Joe Nanini left WOV at the height of its success, following the band's appearance at the US Festival (Devore, California) on May 28, 1983. The gig at the US Festival was the last time the original band played together. They closed the set with "Funzone," a cult fave by the band which has never made it to record.
Ridgway was replaced by singer/songwriter Andy Prieboy, Joe Nanini was replaced by Ned Leukhardt, Bruce Moreland returned, and then the band played on, releasing three more albums on I.R.S. Records--Seven Days in Sammystown (1985), Happy Planet (1987), and The Ugly Americans (1988), the latter a live album--before they called it quits in 1989. By then, of course, Ridgway had moved on to a solo career, and eschewed his "new wave icon" status--one that was probably never justified in the first place. Nonetheless, the name of Stan Ridgway and "Mexican Radio" have become forever linked.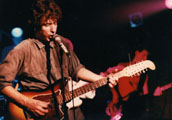 The Post-WOV Period: "A Phase of Some Despair"
From remarks made in various interviews with both Ridgway and WOV band members, one can infer that his departure from the band after May, 1983 was less than amicable. Initial, and no doubt untrustworthy, accounts indicated that Ridgway had departed with on-again-off-again WOV member Bill Noland because the two were going to form their own band. The two have remained collaborators over the years, to be sure, Noland having co-produced the first Drywall album, but a band actually fronted by them has never materialized.
Ridgway has said that the period following his departure from WOV was a bad one for him. In an interview for the magazine Sounds (Canada) in 1986, he said,"I feel like I've kinda gone through a phase of some despair, y'know, with my situation two or three years ago, and some reflection." All that was heard of him through the remainder of 1983 was his collaboration with Stewart Copeland on the delightful song, "Don't Box Me In," which appeared on the soundtrack to Francis Ford Coppola's feature film Rumblefish which was released late in 1983. In 1984, a good collection of WOV material appeared (only as an import), featuring the original line-up of the band, titled Granma's House, though it featured no rare tracks or demos.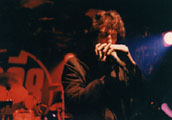 In addition, in 1986 Ridgway appeared on Lost in the Stars: The Music of Kurt Weill, singing a raucous version of Brecht/Weill's satiric "Cannon Song" (aka "Army Song)" from The Threepenny Opera, backed by the Fowler Brothers (trombone player Bruce Fowler has played in Captain Beefheart's Magic Band). Ridgway's interest in the theatrical aspects of performance--so evident in the vaudeville-like quality of his live shows--is evident here. He also contributed a song, used over the opening credits, to Wayne Wang's much-anticipated 1987 feature film, Slam Dance, titled "Bing Can't Walk." The film received a mixed reception by the critics and did not do the "boffo" it was expected to do.
Had we been listening closely to WOV back in 1982, we could have discerned the musical direction Ridgwas eventually to go: it can be found in "Lost Weekend," WOV's most Lou Reed-inflected song, from Call of the West, about a couple driving home from a weekend of disastrous gambling in Las Vegas. About these characters, Greil Marcus observes, "He [Ridgway] never raised their voices, barely allowed them a sigh; with the band meandering behind him, the piece nearly screamed with all that wasn't being said" (317). This song now looms large as an important indicator of the direction Ridgway's interests would eventually lead: his increasing mastery of the storyteller's art, his increasing experiments with elliptical language, as well as a cinema-verite narrative technique around which he would build highly original sound structures. "I'm associated with a lot of early 80s new wave," he said in an interview in 1989, "and I really feel like I've moved beyond that and am doing something quite different now." Ridgway has stayed hungry, and refused to coast on the success--such as it was--of his early hits. His talents were simply too immense to settle for one-hit wonderdom.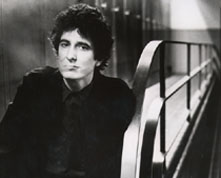 A Conceptual Breakthrough: The Big Heat
Fortunately, Ridgway took at least one song with him when he left WOV--"The Big Heat" (which had debuted, albeit in a much different arrangement than that on the album of the same name, while he was still in the band), a tribute to film noir's dark, violent urban atmosphere of pursuit and paranoia. More importantly, the album's title is an allusion to Fritz Lang's superb 1953 film noir classic. Certainly it is true that much of the imagery contained in Ridgway's lyrics is drawn from the American cinema of the 40s and 50s--no doubt because of its implicit social criticism but also because the films of that period often contained sympathetic treatments of lonely outsiders in hostile urban settings.
He did not release his first solo LP The Big Heat until early in 1986, three years after leaving WOV, though promotional material from this album began appearing in 1985 ("Drive She Said," "Salesman"). Greil Marcus said about the album that it "is probably the most compelling portrait of American social life to appear on a rock 'n' roll lp since Bruce Springsteen's Nebraska" (317). That is significant and justified praise from an important critic, one who has evidently given Ridgway a judicious listen.
The Big Heat proved Ridgway to be a master storyteller. The songs range from sleazy entrepeneurial greed ("Can't Stop the Show," "Salesman"), to profit-driven environmental irresponsibility ("Piledriver"), to urban violence ("The Big Heat," "Drive She Said," "Twisted"), to a soldier in Vietnam lost on a patrol ("Camouflage"). The latter song draws on the mythic aura of larger-than-life characters such as Jimmy Dean's "Big Bad John" and ghostly benefactors such as the one in Red Sovine's sublime "Phantom 309." By reinscribing these motifs into a folk ballad of a lost soldier on jungle patrol, Ridgway created the biggest hit of his solo career. Yet another fluke hit, "Camouflage" went Top Ten in England.
Ironically, most of the contemporary reviews of The Big Heat disparaged the song. Anthony DeCurtis, writing in Rolling Stone 470 (March 27, 1986) called "Camouflage" the "sole clinker," while Mark Fleischmann in Spin 2:2 (May 1986) called it a "male-bonding fairy tale" and asked, "Is it camp? Is it serious?" Thus, critics have tended either to dismiss the song as misguided Reagan-era Rambo theatrics, or as evidence of Ridgway's utter lack of political conscience, and hence (in either case) to doubt his artistic credibility. To imagine that his song of "a big Marine named Camouflage" was intended to vindicate Reagan's warmongering on the one hand, or to suggest Ridgway was exploiting Rambo's mid-80s popularity, or that the song can stand as a testimony to Ridgway's lack of political conscience misconstrues the moral implications of Ridgway's aesthetics and also confuses critical categories. In theory, it is perfectly acceptable to confuse critical categories--as long as one, in practice, is willing to accept the consequences. In fact, Ridgway has said of the song, "When I wrote the song there were many things happening in my life. . . . We had just marched into Grenada and I was sort of wondering what was going on, and really I was just examining my own feelings about it all" (Sounds 2). The irony in all of this, however, is that "Camouflage" became a hit in England, not in his own country. Finally, one has not listened closely to Ridgway's music if it is assumed that he is a parodist: there is no parody of style in Ridgway's work. He uses musical style like a poet uses metaphor: as a vehicle to carry certain ideas. Indeed, his style merits exploration.
The late literary critic Walter Benjamin, when writing on the poet Charles Baudelaire, suggested that Baudelaire possessed a lyric poet's sensitive and vivid imaginative states, but wrote in an age when that sort of lyric sensibility was no longer valued. He argued that Baudelaire was a flaneur, a streetwalker, who, seeking the lyric poet's "spots of time," was consistently subjected to what Benjamin calls "shocks," crude, ugly reminders of a violent, deracinated urban society. In effect, Baudelaire was driven with a Romantic sensibility but found no subject matter to write about; continually subjected to mental "shocks," so characteristic of the urban scene, Baudelaire emerged--despite himself--as a poet of the grotesque. Such is what happens to the Romantic sensibility in age in which the Romantic sensibility is no longer valued. Within that kind of dynamic--so Benjamin argues--there emerges a Baudelaire. Or, in a different century, so I argue, a Stan Ridgway. As poets, they are similar in the way the render the urban scene.
Ridgway's lyrics contain vivid and sensitive detail, and he has a poet's eye toward nuance and detail. His lyrics often emerge as narratives detailing a dark urban landscape. Early songs, such as "The Passenger," about an airline passenger with a bomb, or "Factory," about an injured factory worker, both recorded with WOV, are examples of "shock" in Ridgway's work. In the latter song, the factory worker suffers memory loss from exposure to toxic gases, and suddenly recalls that "i remember. . . [i]/cut my thumb off at the knuckle/on a broken band saw/. . . still got a scratch that i can't itch/where my thumb was/. . . sometimes i remember as a boy/my father told me i could grow up/to be anything i really wanted to be/anything/and everyday at lunch i still look/for my lost digit. . . . " There is great empathy for this man here; moreover, the clash between the romance promised by the past and the dull present often can be found in Baudelaire's verse.
Another example of Ridgway's blighted Romanticism is his song "Drive She Said," which becomes especially interesting when compared to a song to which it might be intertextually connected, Harry Chapin's romantic ballad, "Taxi" (though Ridgway's song is not a ballad). Like Chapin--a pop balladeer from whom Ridgway may have learned something of the storyteller's craft--he does not judge his characters. (However, in Chapin's song the driver's name is "Harry," and he does, implicitly, judge himself.) The setting is urban; the narrator is a taxi driver. In that song, Chapin depicts the poignant chance meeting of two disillusioned, disappointed failures after many years have elapsed.
Interestingly enough, Ridgway has said in interviews that he was an L.A. Checker Cab driver for a short time. In "Drive She Said" (the title is perhaps a pun on the 1972 film Drive, He Said, directed by Jack Nicholson) the narrator is also a taxi driver, forced at gunpoint to become a getaway driver in a bank heist. (Listen to the keyboard arpeggio that is similar to that in Peter Gabriel's Genesis-era "Back in N.Y.C." that appears in the song. The influence of 70s "art rock" on Ridgway's work occasionally emerges.) The bank robber happens to be a woman, and the narrator begins to fantasize of a romantic relationship with her ("just for a minute I thought I saw the both of us on some kinda tropical island someplace, walkin' down a white sandy beach eatin' something"). As they part on the pier, she turns and blows the taxi driver a kiss. As a kind of chivalric gesture to the fleeing woman, whom he feels he has helped, the narrator denies his tacit complicity with her escape and says to the cops, "I don't remember much except . . . just keep your hands on the wheel, and just drive, she said." What is most unusual about the narrative, however, is that the taxi driver remains as alone and alienated as he did before the brief encounter. Nonetheless, in this brief, violent, urban encounter, he fantasizes of a romantic relationship with her. The song can be seen as an unusual love song written to an unknown woman who merely makes eye contact with the narrator via the rear-view mirror. So unusual, though, is that gesture among the impersonal sea of an urban sprawl that Ridgway is compelled to write about it.
Mosquitos: Lives of Quiet Desperation

Presumably as much of a perfectionist in the studio as the legendary Walter Becker and Donald Fagen, Ridgway did not release another album for three years. Following what was apparently a period of incessant touring, he released in 1989, on the Geffen label, one of the strongest albums of the 1980s, Mosquitos. If Greil Marcus is right that The Big Heat was as a "compelling portrait of American social life . . . since Bruce Springsteen's Nebraska," then Mosquitos is perhaps the most consistently empathetic and compassionate depiction of the disenfranchised since Bob Dylan's John Wesley Harding. Its ambition far outreached anything Ridgway had previously attempted. He had refined his mastery of the elliptical narrative, and joined these to a wide range of musical styles and highly detailed arrangements. In addition, he was backed by a crack touring outfit by the name of Chapter Eleven--the band's name yet another example of Ridgway's sardonic humor.
From the majestic, Coplandesque strings of the opening instrumental track, "Heat Takes a Walk," to the melancholy strings of the closing song, "A Mission in Life," it progresses as a series of short stories, each contributing to a general or overall impression of the lives of urban Americans, as Thoreau would say, as "lives of quiet desperation." But they are not judged, at least not as Thoreau might judge them; rather, they are understood, and their peculiar, personal suffering is made real for us the way things exist. Comparisons between Ridgway and chroniclers of the seedy side of Los Angeles such as Raymond Chandler are probably justified, though Ridgway's influences are not literary but cinematic.
Like those of country and western music, Ridgway's ballads range from the sublime, to the merely poignant, to the ridiculous. He reveals a knack for putting a twist on a stock country and western situation. In the song, "Peg and Pete and Me"--musically, not a country song--he presents the instantly recognizable lover's triangle but gives it a sort of film noir twist, drawn from The Postman Always Rings Twice, Double Indemnity, or perhaps the latter's contemporary re-make, Body Heat, thus giving the song a complexity not present in standard country/western ballads. His song draws on the structure of, say, Jimmy Rogers' classic "Frankie and Johnny," even down to the final moralistic pronouncement, but where Rogers' would-be "cheater" Frankie gets reprimanded by Johnny's sister, Ridgway's rather slow-witted narrator only too late realizes that he has been set up by the femme fatale, Peg, and provides us with what he thinks is the profound moral statement, "never trust a rich, dead man's wife." (Notice Ridgway's sensitivity to language and voice here: the monosyllabic diction following the imperative "never" is reflective of the narrator's idiom). The humor here lies in the way the narrator's presumed profound lesson or moral paraphrase--so characteristic of country and western ballads--is stood on its head, by giving us a literal statement of the lesson rather than the anticipated homiletic abstraction.
Incidentally, Ridgway's tributes to country and western are many in his music. In interviews Ridgway has said he grew up listening to country and western music. He told J. D. Considine that "I've always loved that music too much to think that I could actually do it whole-heartedly as a country artist." He went on, "The important thing is taking the essence of those influences into what you do, to try and come up with something different for yourself" (14). Merle Travis's "Sixteen Tons"--made a hit by Tennessee Ernie Ford--has been a staple of his live shows, and while his one man show, rock & roll version of Rex Allen's "Foggy River" (written by Fred Rose), the B-side of the UK 7" "The Big Heat (Remix)," does not purposely try to obscure his country and western roots, it does reveal the kinds of demands his music puts on his listener. Ridgway expects those of us of his generation to know his sources; this is one of the risks his music always takes. One has to listen a long time, and hard, for instance, to hear "(Ghost) Riders in the Sky" in Ridgway's "Lonely Town," but it is in there, nonetheless.
I have alluded to Johnny Cash throughout this essay, and I'm referring here to his rendition of "(Ghost) Riders in the Sky" from the Silver album (1979). Evidence of Ridgway's admiration of Cash began with WOV, of course, in the band's rendition of "Ring of Fire." Cash, however, did not write the song; the songwriters of "Ring of Fire" are June Carter and Merle Kilgore. "Ring of Fire" was first recorded in 1962 by Anita Carter (as "(Love's) Ring of Fire" on Folk Songs Old and New), but the song failed to hit. According to legend, Johnny Cash had a dream in which he heard "Ring of Fire" using brass accompaniment, woke up and announced that he was going record "(Love's) Ring of Fire" using Mexican horns--atypical country instrumentation.
When WOV recorded "Ring of Fire" years ago, they dropped the horns. The Mexican horn riff from "Ring of Fire" returned virtually intact, however, years later when Ridgway recorded his marvellous "Piledriver" (on The Big Heat). And so when I say I hear "(Ghost) Riders in the Sky" in "Lonely Town," I mean, to be precise, that I hear Cash's rendition of "Ghost Riders" in Ridgway's "Lonely Town." In fact, I hear much of Cash's album Silver in Mosquitos, and I say this knowing that it is entirely possible that Ridgway has never heard Silver. What Cash understands is that "Ghost Riders" is a song of the sublime, of the human soul exposed to the very mystery of existence. At its very best, that which we call "Western music" attempts to capture the sublime, and Ridgway knows this. His sound is steeped in Western music, as "Lonely Town" (among others) reveals. It is no accident that Ridgway has recorded Rex Allen's "Foggy River," for Allen was the last of the singing cowboys. Thus, it is through music that Ridgway maintains his connection to the American past and its informing myths. This is why a song such as "Harry Truman" (from Partyball) is particularly painful for him: it is, as it were, to cut one's self off at the knees. Moreover, while it is fashionable to mock or ridicule Red Sovine's "Phantom 309" as country corn, that song, too is about the sublime and that is what makes it work. And Ridgway certainly knows what makes a song work.
Ridgway's best songs are complex in the sense that they play on more than one emotion; they evoke or elicit more than one feeling or intellectual response. His preferred song is--for lack of a better descriptive term--the "cross-purpose" song, which pull the listener in two, often conflicting, directions. Ridgway said, "I've always been more interested in the kind of emotions where maybe you want to laugh and cry at the same time" (Musician [February 1986] 94). Certainly Greil Marcus implicitly understands this when citing "Lost Weekend" as the model Ridgway song.
Yet in a song such as "Can't Stop the Show" (from The Big Heat) virtually all the characteristic themes and song structures are mapped out. While the voice of strip-joint operator in the song reaffirms that one of his strippers is "a showgirl, not a whore," the music contradicts, even undermines, the inherent tawdriness of the narrator's confession. In many respects this song is a Ridgway song inchoate: the melody delicate, even haunting; the arrangement dense; the subject matter dark, tawdry, even implicitly violent ("I think she did it [danced] better last year before her boyfriend broke her arm"). The band wanders in the realm of the ideal; the world-weary voice is locked firmly in the world of the real. Driving these aesthetics is his conviction that easy, clear-cut, black-and-white moral distinctions are extremely problematic, and the conflict between music and lyric in this song exposes that complexity.
His characters are lonesome, alienated--and sometimes full of barely restrained fury. The narrator of "Newspapers" (on Mosquitos) for example, another cross-purpose song, seems not too distantly related to Taxi Driver's Travis Bickle:

sometimes late at night i can see the
streets like no one else can. there's
a lot of things going on here that
even newspapers don't understand.
some people got too much money,
some rob with a gun or a ballpoint
pen. maybe i'll get me a big black
cape, and then they'll be runnin'
from me, lookin' over their shoulder
for me. . . .

The emotional complexity of his songwriting style transcends the pop song formula. Even when he writes a song of lost love, such as "Walkin' Home Alone," his lyrics are not penned from the position of the crucified lover, epitomized by such songs as Jim Croce's "Lover's Cross" or Keith Whitley's "I'm No Stranger to the Rain," where the pathos emerges from their recognition of their own rejection, and their stoic refusal to mourn. Rather, as in "Walkin' Home Alone," there is a distant allusion to a violent argument, and the heartbreak of the estranged lover becomes anger that has turned inward, as a self-hatred or self-loathing, and the hurt is masked by a stoic cynicism. Yet another example of his cross-purpose songwriting style, the music tends to mask or negate the very fury the lyrics express.
The Big Heat and Mosquitos are two of the finest albums of the 1980s, a decade that began for Ridgway with WOV and the L.A. new wave/punk scene. Ridgway had mastered the "cross-purpose" song and had honed to a refined art his storytelling technique. That he was not content, in the years following Mosquitos, simply to tread water goes without saying.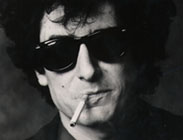 Partyball: A Hermit Throws a Party
Greil Marcus writes of Don Van Vliet (Captain Beefheart), "He cannot make his music accessible. . . . Either he'll make hermits' records that implode or put together a set of prophecies that will find its listeners no matter how fast it ends up in the cutout bins" (149). Ridgway's set of prophecies is no doubt his first two solo albums; but he made a "hermit's record" with Partyball (Geffen, 1991), his last solo album until Black Diamond (1996).
Partyball is a hermetic, relentlessly quirky album that in many respects is a startling follow-up to Mosquitos. While musically as diverse as his previous albums, it is, at the same time, his most personal and, paradoxically, his darkest. As such, it is flagrantly, even gloriously non-commercial, with only one condescension to market forces, "I Wanna Be a Boss" (but a good song nonetheless). The accountants at Geffen could hardly have been amused.
Partyball contains such highly personalized allusions and symbols that it merits the label "obscurantist." A potpourri of ideas and musical styles--which no doubt in part prompted the title--Partyball seems to be in general an indictment of American pop culture (which the title also, sarcastically, connotes). The self-loathing which some of the songs contains is no doubt a consequence of such an attack: it is to challenge some of very myths which sustain us. To be sure, it is a veritable double-edged sword.
"(Watch Your Step)" is the first title we see on the song list to Partyball, and it is meant to be taken both as a warning and as a prediciton of what is to come. The album contains Ridgway's increased experiments not only with elliptical narratives but with the nature of language itself, while at the same time the songs turn more introspective. Storytelling gives way to lyricism and language play, as if deliberately to challenge his audience (in the manner of Bob Dylan in the 60s, or Bruce Springsteen with Nebraska).
"Jack Talked (Like a Man on Fire)" is the first song on the album, a contemplation on the nature of being, done in the form of a paradox at which he is so good. One has to glean from interviews the identity of Jack in "Jack Talked." We are told of a strange character named Jack who "talked like a man on fire,"
And his eyes looked like two shiny
steel ball bearings
And when he moved the ground beneath
him shook and split open
No one got too close to Jack
Jack never got too close anyway
And when he dreamed his ears drooled
Thirty weight engine oil
For the first time, Ridgway's lyrics are arranged as lyrics and not as blocks of prose. But more importantly, the lyrics begin to suggest a sort of self-contained personal mythology. Other songs on the album, such as "The Gumbo Man" and "Snaketrain," support this claim. You have to read widely to decipher these lyrics; in the British magazine The Face, an article on Ridgway mentions "a homebuilt dummy named Jack" that Ridgway had as a kid: "I was a good ventriloquist," he says. "Trouble is I had no jokes" (83). (You can see a picture of Jack, held by the young Stan Ridgway, on the 1992 "best of" CD Songs That Made This Country Great. Lately, Jack's own alter ego has emerged in the persona of "Jack Teak Lazar"; "Jackie" has a "starring" role in Ridgway's "Big Dumb Town" video.) The actual Jack--before his incarnation as Jack Teak Lazar--will make an appearance in Carlos Grasso's film The Drywall Incident (1995) a few years later. Perhaps this early fascination with ventriloquism--literally speaking in another's voice--contributed to the development of Ridgway's keen empathetic capacity that informs his songs. "For four years beginning at age 10, the young Stan was obsessed with ventriloquism," Bill Forman noted in BAM 226 (18). ("'The dummies went by the wayside when I first heard Albert King's 'Crosscut Saw,'" he said.)
Essentially, Jack's argument is that he is equal to the artist because he is the vehicle through which the artist speaks: Jack "yelled out as loud as he could/'I have artistic sensibility,/I am a damn good risk,/I am the messenger and/Here is the message'." Jack is just a "dummy," who (that?) can't have any artistic sensibility--he doesn't even have any ideas (like poor ole' Kawliga, he's just a wooden head). On the other hand, he's the means through which the artist speaks; without Jack the dummy, the artist himself is mute. The identities of ventriloquist and dummy dissolve. Who, precisely, is it that yells out, "I have artistic sensibility, I am a damn good risk," the artist Ridgway or the dummy Jack? "I am the messenger and/Here is the message," Jack insists. Jack does not imagine he's merely the passive vessel through which the voice of the divine passes; since the voice is incapable of expression without him, he and the messenger are one. He is animated by it, and that is his mode of existence. The question is an important one, for once we are warned to "watch our step," the ontological questioning of "Jack Talked" is the first song on the album.
A hermit's record indeed.
Indicting the very culture which sustains him--this pure product of America--the album is by turns introspective, confessional, and at times full of barely restrained fury. Vigilantism under the guise of the law is attacked in "Roadblock" in which "some idiot kids from school ate dirty snow cones colored red white and blue," while a science fiction scenario of a dystopian future is imagined in "The Overlords," one of the few songs in his oeuvre in which he forays into funk. American icons John Wayne and Rudolph Valentino are emasculated in "Harry Truman" and exposed as tawdry, media-created shams. "John Wayne was always bald/And he had a woman's name" he sings, and "Valentino was a momma's boy/He cried in his tent all night long." Iconoclasm is certainly a matter of aesthetics, but to attack two of America's most famous, and perhaps cherished, Hollywood stars is to attack those embodiments of values that the country finds important. He continues, "And Harry Truman finally dropped the bomb/so I could go to sleep at night." Ridgway's personae often go to sleep; the amnesiac factory worker in "Factory," says, "i don't know why i lose my hair/and then i go to/and then i go to/and then i go to sleep." Structurally, going to sleep gives him a bridge in his songs, allowing him to move from subject to subject; but to "go to sleep" seems to be a complex trope in his work for either resignation, of working class complacency or quiescence, or of blissful escape from incessant daily catastrophes. One infers that the "place we could stay at . . . up another mile" that closes the song "Lost Weekend" is a motel, a momentary pause on the trail for two working-class Americans who've blown all their hard-earned money in Las Vegas. A place to go to sleep.
Partyball never relents. As though playing a game of baccarat, Ridgway seems, as the album continues, to want to up the ante, to push his lyrics so far as to test the very limits of language and meaning in the manner of, say, Captain Beefheart. "Uba's House of Fashions" and "Beyond Tomorrow," which conclude the album, are unusual Ridgway songs, disjointed, highly elliptical, more experiments with language and sound that coherent narratives. The "beast"/"yeast" pun in "Beyond Tomorrow" is an example of the language play, perhaps to be expected in a song which, according to the liner notes, "wishes to thank the spirits of John Coltrane, Ezra Pound, Lord Buckley, Howlin' Wolf and Billy Mier. . . ."
Yet juxtaposed beside the harsh indictments of American pop culture and the experimentalism are indications of a more Romantic form of self-expression. "Right Through You" is an example, a remarkable re-telling of Matthew Arnold's equally remarkable "The Buried Life" but heavily indebted as well to Bob Dylan's "You're A Big Girl Now." In that decades-old poem, Arnold means by "the buried life" not that which one hides from the world, but rather that dimension of one's emotional life which a person simply cannot articulate, or rather, can only articulate through the concreteness of the poem. When Ridgway sings, "I'm chippin' the rock/But it's dark in the mine," we know he's telling us he's struggling, digging down into the Self, and it's damned hard to talk about. "But I try to act sure/I try to endure," and he tells us it's not him, but a portion or dimension of himself that he can talk about. And it is hard because he's trying to tell us precisely about the Self, or rather His Self: "Like a bird on a limb/Starin' down at its toes/No song it could sing/No its voice it just froze," he sings, but we know that that's no other he's singing about, but rather himself he's singing about--when he sings those lyrics we read on paper, he changes them to: "No song he could sing/No his voice it just froze."
The metaphor, similar to Arnold's, suggests the informing but inarticulate dimensions of our personal, deeply emotional life which demands expression--but which, paradoxically, we cannot express. When Ridgway sings, "And I see/Right through you/Right on through/But I know you see/Right through me too," that only can be a kind of terrible irony, an angry sarcasm saying that there is that portion or dimension of ourselves which we can never know about each other. What Arnold calls "the unregarded river of our life," and later "the buried stream," Ridgway in his song calls "the mine," and by a sort of strange, circuitous route we find ourselves again discovering the "river that flows" right past our door--ourselves.
Partyball represents an innovative and provocative departure for Ridgway that proves to be a challenge to his audience as well. The radical departure of Partyball suggested that another period of his work had been completed and that a new direction had begun. He had made two strong solo albums while "loaned" out to Geffen, though for his next project he "returned" to I.R.S. Records. Though it was released four years after Partyball, that radical departure was a collaboration Ridgway named Drywall.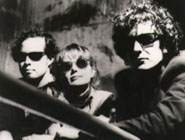 Drywall: Tales of the Grotesque and Arabesque
After a lacuna of four years, following the commercial disappointment of the Partyball album, the repeatedly resilient Ridgway came back with a vengeance. The name of his current band, Drywall, might be a distant allusion to WOV, but more likely the name reflects Ridgway's sort of laconic, working man's idea of a good name for a band. Before the release of the Drywall album Work the Dumb Oracle on I.R.S. (March, 1995), Ridgway had two strong songs appear on the soundtrack to Peter McCarthy's film Floundering--the soundtrack to which was released in December 1994. His two songs on the soundtrack, "My Drug Buddy" and the title song, "Floundering," suggested his past and future: "My Drug Buddy" anticipated the immediate future in Drywall, while "Floundering" looked back, a song strangely reminiscent of "Don't Box Me In."
Stan Ridgway's Drywall, a trio featuring frequent collaborator Pietra Wexstun on keyboards and Ivan Knight (Rain Parade) on drums and percussion, first appeared in clubs in the Los Angeles/San Diego area in the summer of 1994 featuring all new songs. In an earlier draft of this essay, finished in late October, 1993--before the appearance of Drywall--I speculated that after such a long hiatus between albums (Songs That Made This Country Great, the "best of" collection, appeared in 1992, but otherwise he had released nothing new since Partyball) Ridgway would surface having gone through a time of reinvention. This could be surmised by the radical departure Partyball represented, or at the very least suggested.
That reinvention was the trio Drywall, which Ridgway has called "an experiment in terror, a collection of rants, laments and media overload." The title of the group's first album, Work the Dumb Oracle, is one "that reflects this process of fashioning a monster made of electronic mayhem." In characteristic self-deprecating fashion, he also has said that the title of the album is derived from "the name of a race horse we all lost on."
The storytelling style has become highly elliptical; he told Rebecca Kraus, "I'm [now] interested in a more abstract way of expressing myself than I might have been several years ago, because I like the aspect of leaving a lot of holes where the listener can bring his own agenda and interpretation" (Entertainment Today June 9-June 15, 1995). In principle his lyrics have always had "a lot of holes" or ellipses, but the difference is that on Work the Dumb Oracle those ellipses cloak a sinster reality rather than a merely tawdry one. For example, what is, precisely, that "trunk load of sin" that the narrator mentions in "Back Toward Diamond Bar"? (The album moves between two polarities--Diamond Bar as one, Bel Air (in "Bel Air Blues") as the other: two poles which mark the boundaries of the "dumb oracle," Los Angeles.) The "urban mutants stealing cars" that prompted "Goin' Southbound" (Mosquitos) return in a graver mode, in both "Back Toward Diamond Bar" and "New Blue Mercedes." There are bluesy tunes such as "Highway Song," "Triangle Head," and "Old Bent Coin." The confessional dimension of the blues serves Ridgway well in this latter song, in which, for the first time, he explores his self-imposed role as an eccentric outsider, admitting that "Sometimes I feel like an old bent coin.../I'm just a face in the crowd stuck in a cheap seat/Waitin' for Lady Luck to show." This sort of candid confession is unusual in his work, but here, for the first time, he shows signs of a willingness to do just that. The choice is not without certain powerful effects.
Work the Dumb Oracle is a raw, electric collection of styles, from the Doors-like lounge rock of "Big American Problem," to a Lord Buckley-influenced tune such as "My Exclusive Sex Club," with its Latin rhythm and Arabesque guitar licks:
Now there's a man upstairs
he's hangin' from a hook
The lady with tattoos just looks
like a coloring book
Our club is like no other,
We got a big surprise--
Tonight a man will bake a dog
and put it in a pie
And when the pie is open,
The dog begins to sing
Then Judy will administer that
party favor [fatal?] thing. . . .
And when it's done
Jack will show you to the door--
Or have you seen this before?
"Jack" again, a character in Ridgway's idiosyncratic personal mythology. Jack, whose origin was a dummy, shows up in many places, serving many functions. It's quite likely that Jack represents a darker aspect of Ridgway himself. He, that is, Jack, makes an appearance in Ridgway's film collaboration with occasional MTV director Carlos Grasso (Art Direction on The Big Heat) titled The Drywall Incident, a companion piece to Work the Dumb Oracle. In this short 1995 film, Jack has a vaguely menacing presence which seems to precipitate disaster. In the "Big Dumb Town" video (1996), however, Jack(ie) comes to a bad, but nonetheless deserved, end.
The Drywall Incident would seem to be a natural development of Ridgway's long-standing interest in film, and the cinema-verite narrative technique of his lyrics is amenable to the style of the film, a dark meditation on the state of contemporary Los Angeles. The 30-minute film is a collage of self-reflexive elements--stock footage, a mock interview with the band on the nature of the Drywall project, footage of riot-torn Los Angeles taken from television--that is structured around the arrival of extraterrestials that seem strangely normal amidst the mayhem around them.
Ridgway sees the Drywall project as a temporary departure from his solo career, using it to explore different creative avenues than his solo work. He told Sean O'Neill, "I needed a different angle, and I like the idea of having two projects--one feeds the other. And also, people have a lot of expectations, and I like to upset them" (Los Angeles View). Elsewhere he has referred to Drywall as a "concept" rather than an actual band, and has indicated that there will be a total of three Drywall recordings, forming a trilogy of so-called "apocalyptic documents" culminating in the year 2000.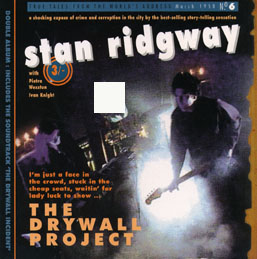 His current release is a new Drywall album, The Drywall Project/The Drywall Incident, following the release of his first solo project since Partyball, Black Diamond in 1996 on the indie Birdcage label (run by his friend Joe Ramsey). (Ridgway won his release from the now-defunct I.R.S. Records in June, 1995, after being with the label for nearly fifteen years.) In 1996 he also appeared in Pietra Wexstun's band, Hecate's Angels, on the vaguely paranoid Hidden Persuader that also appeared on the Birdcage label.
Stan Ridgway continues to work, to invent, to play and to write music all without vast commercial recognition--the true sign of an indomitable spirit. For like Walt Whitman--also a pure product of America--Stan Ridgway contains "multitudes."
He is a man made out of words.
---