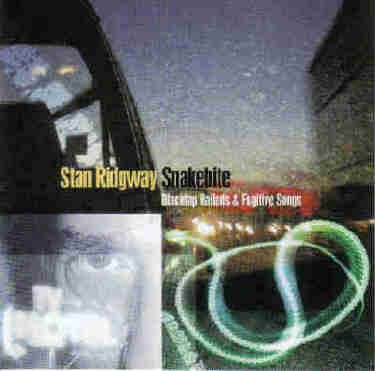 Call of the West

Snakebite: Blacktop Ballads & Fugitive Songs
redFLY Records 84812, 68:36

Reviewed by Sam Umland

A critic for the L. A. Weekly said it best: "Stan Ridgway is the Nathanael West of rock." The simplicity of the statement betrays a keen, insightful truth. West, an American novelist who died in a car crash at age thirty-seven, wrote four novels in his short life, his most famous being The Day of the Locust and Miss Lonelyhearts. Ridgway, like West, is not a satirist. For him, as it was for West, life is a tragic farce. Snakebite is a remarkable record. It is so musically diverse, so masterful in its arrangements, and so fully realized in its farcical despair, one is tempted to call it the definitive Stan Ridgway record.

Of his last few albums, the only one that rivals Snakebite is Black Diamond, primarily because the earlier record is so full of self-reflection and the album in which he explored his own artistic doubts. On that record, he did something very, very hard, but something every artist inevitably must do: scrutinize himself as an artist. "Gone the Distance," "Stranded," "Underneath the Big Green Tree"—these are songs in which he confronted the greatest fear any artist can have: that he may be a failure. Ridgway has said "Gone the Distance" was about Kurt Cobain, but don't believe him. The last person to trust about the meaning of a work of art is the artist himself.

Of course, Black Diamond was made several years ago, and the emotional storm that prompted that album seems to have subsided. It's as if Ridgway is telling us, through the title of the album —Snakebite—he has lived through it, and his spirit has survived, intact. He tells us in "My Own Universe" that he's "sitting here inside my own universe," and he's "lookin' through that telescope" at the world around him, and while the world is no less tragic and farcical than it ever was, like Beckett's Malloy, he can't go on, but he will go on. He's now passed "That Big 5-0" mile-marker in age, but given the exuberance of the song's Bo Diddley-inflected rhythm, I think he's fine with it: "No regrets, no should've beens/Salvation waits for those who sin." He means that, too. Although I'd thought we'd never get the story, twenty years on he's finally told us at least part of it, in "Talkin' Wall of Voodoo Blues Pt. 1." If he's angry, he has a right to be. On the other hand, the song itself represents his own victory over time: record companies—and managers—have come and gone, but the art, and the artist, endures. "This time we won!" he sings on "Into the Sun," and I hear that lyric without any irony. As lyrically eloquent as anything he's ever written, "Into the Sun" is the first of the album's superb sixteen tracks, and as I listened I felt the record could easily contain twice, three times the number of songs it does. He ought to be named a goddamned national treasure, like Aretha Franklin or Johnny Cash.

He ought to be a screenwriter, because he has a screenwriter's gift to capture a moment, a scene, in just a few choice words. His language is deliberately colloquial, sparse, and economic. He's like a wise old uncle you don't see very often and you wish you could spend more time with: he doesn't say much, but when he does, you hang on every word. He doesn't often use quotations, but when he does, it speaks volumes. Ridgway has only covered a few songs in his long career: "Ring of Fire" and "Sixteen Tons," for instance, or "As I Went Out One Morning." (I set aside the highly personal album of swing and popular music covers he dedicated to his parents, titled The Way I Feel Today.) Somehow, I wasn't surprised to see that Snakebite contained a cover of Mose Allison's apocalyptic "Monsters Of The Id," a song I imagine he's wanted to put on a record for years. Although it's Mose Allison, it's so inimitably Ridgway. He takes over the song and makes it his. Some years ago, during an appearance on L.A.'s KCRW radio station, Stan covered Bob Dylan's "Man in the Long Black Coat." "Monsters Of The Id" has a family resemblance to Dylan's similarly apocalyptic song. "The creatures from the swamp/Rewrite their own Mein Kampf/Neanderthals amuck/Just tryin' to make a buck/And goblins and their hags/Are out there wavin' flags." Remember that the Man in the Long Black Coat freely quotes the Bible, but seems to take disaster with him wherever he goes. Sometimes the devil comes as a man of peace.

Some literary critics have lamented the death of parody, arguing that the modern world's realities have surpassed anything the parodist can imagine. I'm not sure about that; maybe in literature, but not in rock music. Stan Ridgway is one of the few artists reporting on the modern world who doesn't seem ever to be outstripped by reality itself. He and I are the same age; I haven't made an exact count, but we're sixty or seventy days apart in our age—I call that the same age. When I listen to his music, I hear the America in which I grew up. Not every scenario or vignette, to be sure, but I hear the language, I hear the rhythms of speech and the idioms of the people I remember. I hear music in his music that I remember people listening to. Consistently, he's captured this spirit, this ambience, in every solo album he's ever made.

The critics better heed this record, give it a serious listen, and consider it for a Grammy nomination. That's right. I said it: it's worthy of a Grammy nomination, and I'll stand by my assertion. Stan Ridgway has been in the music business for over twenty-five years. He's been a solo artist for twenty years, consistently releasing records praised by critics and treasured by his fans. People of this country say that they value such things as individuality, self-reliance, self-motivation, independence, and resilience. Stan Ridgway embodies all these values. His longevity and creative genius is a matter of record. His music is his own, and he's made his own for decades, without slavishly adhering to trends or embracing commercial enticements; indeed, he seems blithely indifferent to them. His music is rooted in the American soil and is as diverse as the country itself, like jazz, or rock 'n' roll. This past March, at the Rock & Roll Hall of Fame induction ceremony, Keith Richards said, "The Rock & Roll Hall of Fame is about all the biggest acts who can do it good the longest." Stan Ridgway has been doing it good for a long, long time. It's time he's recognized for it.
---